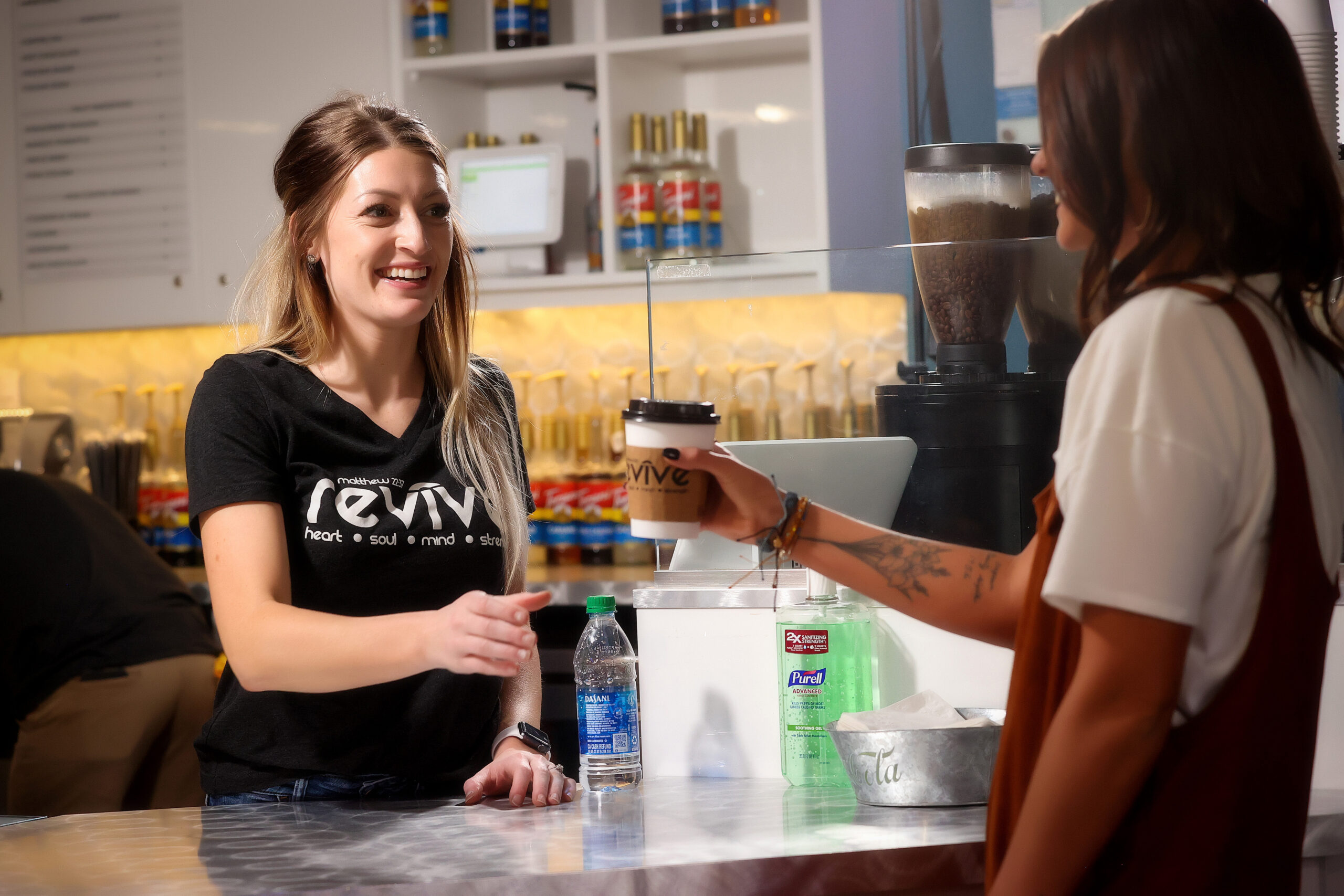 If you are new to Journey Church our Sunday morning experiences are the place to start. It is within these services that you will get a real taste of the life and culture of our church.
Grab a coffee from the Revive coffee shop, make a new friend in the lobby, and head into our worship center for a time of live worship and a shared message from one of our pastors. Our worship is contemporary in style and our messages are relevant to life issues. We hope you will find yourself challenged to take one step further in your relationship with Jesus in any and all services you attend.
You can enter through either of our main entrances located on the north or south sides of the building directly facing the parking lots.
As you walk in you will be met by our hospitality team greeters who can direct you as needed. Our hospitality team will offer to show you to the Worship Center, adult small groups, or any of our student/children's ministry areas. Whether you have been around church for years or if this is all new to you, we want you to enjoy yourself and get involved at a level you are comfortable with.
Our desire is for you to feel comfortable and relaxed while you are in church.
Our contemporary worship and atmosphere is very casual, so come as you are. Services start with worship and transition through prayer and/or scripture readings before entering into announcements and a sermon. Right before the start of the sermon we have what we like to call the 4-Minute Connect. This is a time when many of the people in the worship center will stand and greet or converse with one another, walk back to the connections desk to turn in a connect card, or drop off their offering or tithe in a give box. The goal of this connection time is to give everyone a chance to meet someone they may not know or to get to know someone they do know better.
What happens after the sermon?
We believe in the power of experiencing God during services and will often open the altars after each sermon for prayer. There is no pressure to take part in this alter time but it is a chance for you to immediately apply what you've just heard in the message that Sunday morning.
Please feel free to linger at the altar with Jesus or in the lobby and join in fellowship with the rest of our church.
Our team will still be available after services for any questions you may have and our pastors would love to connect and get to know you more!
You are welcome to have them with you in service but we do provide ministries that are tailored to each age level, from infant to 5th grade.
We do not want them to miss out on any of the exciting activities we have planned for them in our Journey Kids Church, located down the north hallway of our building. If you are unfamiliar with our kid's ministries our hospitality team will be ready to help you find your way and take you through the steps of checking in your child or children.
Click here for more information about Journey Kids.
Come as you are! We are excited to have you join us whether it is your Sunday best, worn jeans, or even your favorite team's jersey. Our heart is people, not perfection.